Behind the scenes of a translation agency
Our translators, proofreaders and clients always have a story to tell. Check out the current issue of our magazine, Dictionary (German only). Would you like to receive a print version of the magazine by post (German only)?* Just send an e-mail with your postal address to dictionary@diction.ch.
Dictionary No. 7
3. Mai 2021

Beziehungen und Kettenreaktionen – darum geht es in dieser Ausgabe. Einige unserer tollen Freelancer erzählen über die Zusammenarbeit, spannende Kundenprojekte zeigen die enge Kooperation und ein Interview zum Supply-Chain-Management gibt Zukunftsperspektiven. Wir ziehen an einem Strang.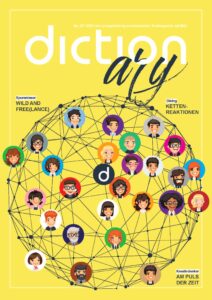 Dictionary No. 6
8. Oktober 2020

Digitalisierung im Corporate Reporting ist in aller Munde: Wie gehen wir als Übersetzer an die Sache heran? Und wie läuft eine Übersetzung mit CAT-Tools ab? Auch das Interview mit einer netten langjährigen Bankkundin hat uns Freude gemacht.

Dictionary No. 5
25. November 2019

Wie funktioniert unser Diction-Portal? Wie lassen sich Übersetzungskosten sparen? Welches coole Hobby hat unsere TMS-Super-Userin? Wie kriegen Bewerber ein Date mit uns? Das und mehr im neuesten Magazin.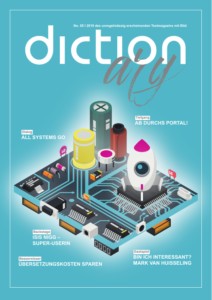 Dictionary No. 4
11. Juni 2019

Wie helfen wir einem grossen Automobilkunden bei der Marketingautomation? Wie funktioniert firmenspezifische Adaptierung bei maschineller Übersetzung? Und was hat sich in den letzten 15 Jahren bei Diction verändert?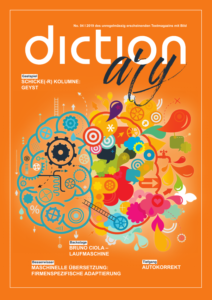 Dictionary No. 3
24. Oktober 2018

Kommen Sie mit auf einen mysteriösen Rundgang in unserem sicheren Datencenter? Wie übersetzt man lebenswichtige und doch witzige Safer-Sex-Videos und -Broschüren? Und lesen Sie unser Interview mit einem Datenschutzexperten zur EU-DSGVO.

Dictionary No. 2
7. Mai 2018

Übersetzen kann jeder, der eine Fremdsprache spricht? Unsere witzige Mythos-Story zeigt das Gegenteil. Sprechen unsere Übersetzer bei der App einer Bank auch Klartext? Und welche Fun Facts wollten Sie schon immer über uns wissen? Mehr im Magazin.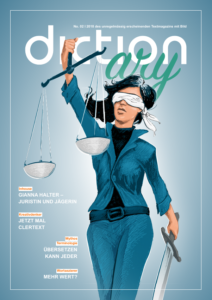 Dictionary No. 1
7. August 2017

Die Premiere! Kennen Sie denn schon unsere Erfolgsrezepte für alle Sprachregionen und Dialekte? Und was ist Blablametrie? Oder vielleicht möchten Sie mit einem unserer tollen Bankkunden über das Thema Qualität nachdenken?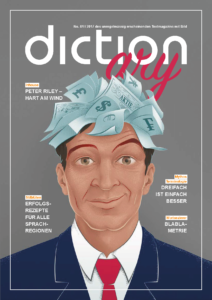 * In doing so, you give us permission to store your postal address. You can withdraw your consent at any time by sending an e-mail to dictionary@diction.ch, which will also mean you unsubscribe from the magazine. For further details please also refer to our Privacy Statement.