We will be happy to help you, and will get in touch with you as soon as possible.
If you need our help right away (or ideally yesterday), or you just prefer talking to typing, feel free to call us on +41 81 750 53 33.

Want to keep up with the goings-on at Diction?
Subscribe to our newsletter or check out the current issue of the Diction magazine for the latest news.
Newsletter
Stay up to date with our newsletter.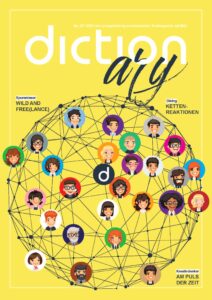 Magazine
Our translators, proofreaders and clients always have a story to tell. Check out the current issue of our magazine, Dictionary (German only).
Looking for information on something else?
Quality
Certifications and more.
Technologies
CAT tools, MT and other tools.
Solutions
Portal, Connector and TMS.
References
Read our client stories.
News
Our language partners are part of our family! That's why we couldn't miss the opportunity…