Take your image to a new level
Deliberately position yourself in the market with corporate language that is clearly defined and used consistently. We will be happy to assist you with our corporate language services.
What can corporate language services do for you?
Have you ever thought about the best way to ensure that your clients understand your company, how you can create trust through the language you use, or how you can shorten sales cycles?
Corporate language, also called corporate wording, is the typical language style of a company. It is a key part of your company's image and helps set you apart from your competitors. Corporate language includes a wide range of linguistic aspects, such as terminology, style, and the use of technical or simplified language.

Many of our clients would like to communicate more effectively, but do not quite know how to go about it. Large companies, in particular, often find it difficult to keep all employees up to date. And using precisely the right terminology is not always just a matter of effective communication – in legal documents, for example, it is absolutely essential.
We will be happy to support you with our corporate language services. Depending on what you need, we can offer you helpful tips on how to manage your terminology, create document templates with your corporate language, or even provide you with a full corporate language manual.
Read our flyer to find out more!
Benefits of well-managed corporate language
No doubt you have also thought about how you could benefit from well-organised and effective corporate language management. Our experts will work with you every step of the way. Here are some of the benefits that you will most certainly also appreciate:
What corporate language services does Diction offer?
What do you need to create a consistent approach to corporate language for your entire company? It doesn't matter whether you already have an elaborate plan or don't even know how to get started – our experts will be happy to help you, both on a small and a large scale.
Here are some examples of how Diction can help you:
The Diction terminology manager
SLet's start a new era for your company's corporate language and terminology management!
Terminology, specialised vocabulary, stylistic elements and much more are important aspects of your corporate language. It can get pretty tedious to have to constantly worry about the correct phrasing when writing a text. This is where the Diction terminology manager comes in!
Imagine what it would be like if you were working on a document and the preferred, accepted or forbidden terms were automatically highlighted using a traffic-light system. What's more, in the case of yellow or red highlights, you will be given appropriate alternatives. Ensuring that everyone in your company speaks the same language has never been easier. In this way, you can showcase your image in the best possible way, clearly set yourself apart from the competition and make sure that many internal tasks are completed more quickly and easily. Well, the whole point of your corporate language management is of course to ensure your company communicates with one voice. Your clients will understand what you stand for, and you will stand out from your competitors. In addition to image, it's also a matter of costs and effort, which you can significantly reduce with efficient terminology management.
You can see the terminology manager in action during a free demonstration. It's very easy to use and will help you to manage your entire corporate language in an integrated and comprehensive way.
Find out more about this exciting aspect of our corporate language services here.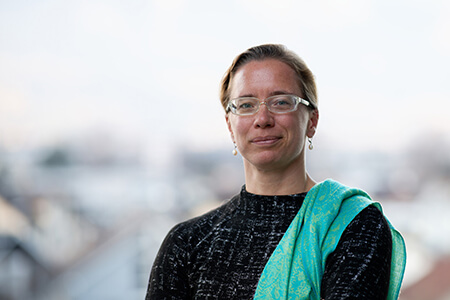 Corporate language services: Want to find out more?
Our team of experts, headed up by Deborah Palm, are on hand to answer any questions you may have.

+41 81 750 53 33
info@diction.ch
News
Our language partners are part of our family! That's why we couldn't miss the opportunity…