End-to-end translations
Connect your system directly to Diction's via a translation plug-in and streamline your workflow for CMS translations.
For e-commerce, DAM and PIM systems and CMS
Automate your project management with our plug-ins for CMS translations. The project you submit in your CMS is transmitted to our system directly. You don't need to save the documents in a different format or copy any text. And you don't even need to leave your CMS to request a quote, set a deadline or check the status of your order. Once we've finished, the final translations are seamlessly uploaded into your CMS.
Our Diction connector is also compatible with most widely available plug-in and add-on solutions. It doesn't matter if you use a CRM or SRM system or CMS – we will streamline your workflow using plug-ins and/or our API. We use our API to connect with CMS solutions such as Adobe Experience Manager, WordPress, Drupal and TYPO3. We will be happy to advise you on the different options for using these tools together with the Diction connector that are available to you.
Diction is part of your supply chain
In the age of automation, more and more companies need high-quality translations with fast turnaround times. And for online content that needs to be constantly updated in several different languages, it is particularly important that companies can have their texts translated and uploaded to the website with as little effort as possible.
This is why all modern translation service providers should offer end-to-end services. Language services have traditionally been something of an afterthought at the end of the main process. However, many companies are now realising that, in the long term, this increases the amount of work and the costs involved when compared to directly integrating it into the chain of production. The translation plug-in we developed specifically for CMS makes us part of your supply chain.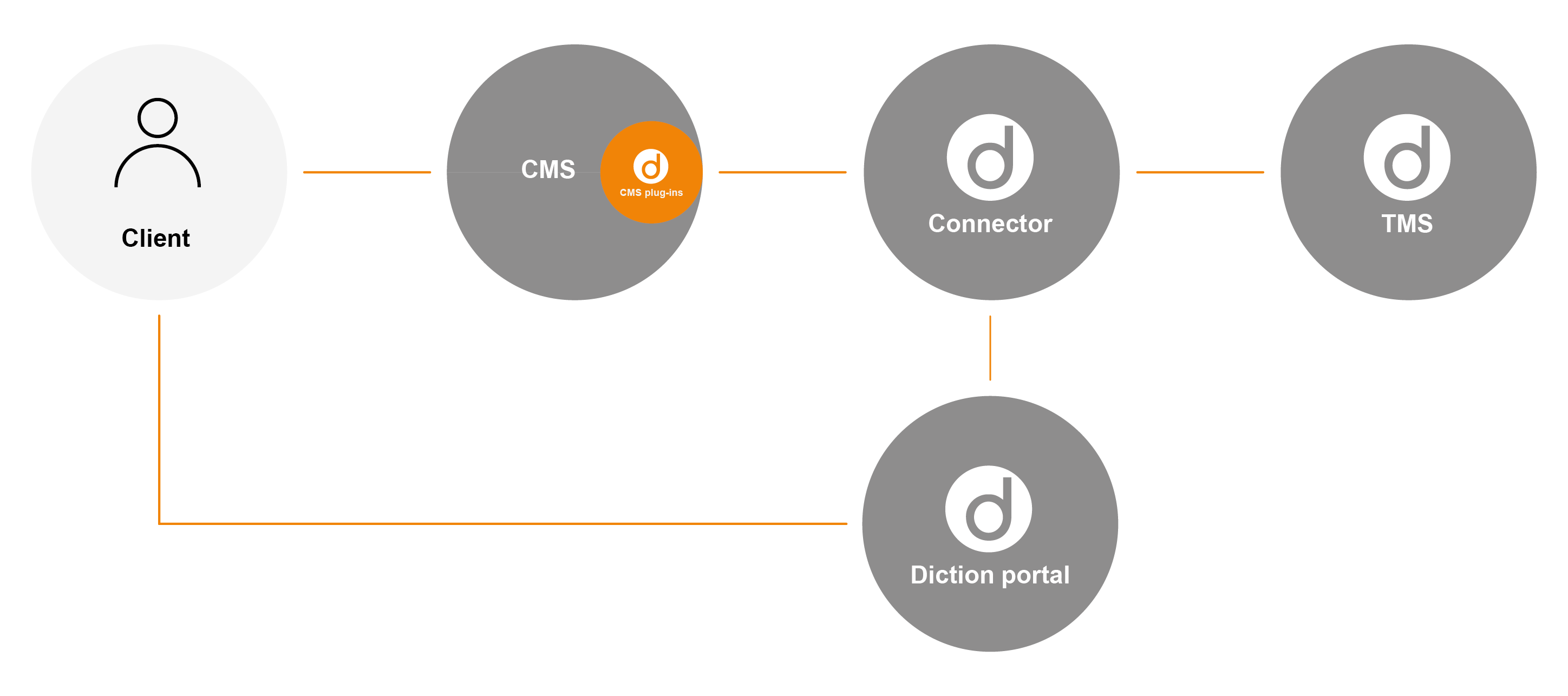 Background integration: the Diction TMS and client portal
How does end-to-end translation work? When you send us your project via the translation plug-in, the process starts running in the background. The Diction TMS registers and analyses the project, takes care of resource management, starts the translation software and initiates the job streams. Your project is simultaneously uploaded to the Diction client portal, where it is displayed like any other project – and you can edit it if you need to. And you don't even need to check the portal at all, as all of the relevant information can also be viewed in your CMS. However, the information and editing options in the portal are useful if you need to add more documents to the project that weren't sent via CMS, or if colleagues who aren't working in the CMS need to stay up to date on the progress of your CMS projects. This allows you to keep constant track of all your projects. Regardless of whether you check the portal or not, the finished text will be uploaded to the correct place on your website. Our automated processes help make your processes even more automated.
A translation plug-in tailored to your CMS
There are obviously many different CMS solutions. We have developed Diction plug-ins for some of the most popular options. Whether you work with Adobe Experience Manager (AEM), WordPress, TYPO3 or Drupal, just get in touch if you want to optimise your processes with the help of our end-to-end translations.
Adobe Experience Manager plug-in

AEM offers content management and digital asset management in a single package. It is often used by large and/or highly communicative companies that offer a personalised multi-channel digital experience and value seamless automation. The structure of the original text remains the same, and the translation is seamlessly integrated into your website.
Diction service: Our specially developed AEM plug-in makes Diction an integral part of your chain of production. Your projects are uploaded directly to our system via the plug-in, and the resource management and processing chains are started. You don't need to copy anything, call anyone, send any e-mails or use the client portal. Every step of the end-to-end translation can be initiated, managed, monitored and checked in your CMS. Make Diction part of your supply chain – faster and more efficient with excellent results.
WordPress plug-in

WordPress is one of the most popular CMS solutions as it is very easy to use. With WPML, it also offers a very user-friendly tool that manages translations into several languages. The translation plug-in developed by Diction connects to WPML and exports your online texts in XLIFF format and manages the entire project process directly in your CMS.
Diction service: Diction's translation plug-in for WordPress sends your project directly to our client portal without you needing to log in and starts the job automatically. And you can manage the entire project via your CMS – you can use WordPress to set deadlines, start jobs, check statuses, upload reference material and receive the final translation. This end-to-end translation process helps you save time, money and energy.
Do you want to install WPML? Learn more about WordPress translations with WPML. Already got WPML? Click here to visit the Diction WMPL supplier page. 
Drupal plug-in
Drupal is an open-source CMS with a framework that a lot of companies use for their website. Diction's translation plug-in for Drupal can help you streamline your workflow for CMS translations by enabling you to submit, manage and track your translation projects directly in Drupal. The finished text doesn't even need to be formatted – it is automatically integrated into your website.
Diction service: Our Drupal plug-in is an integral part of your production chain. Your projects are sent straight to our system via the plug-in, and the resource management and processing chains start automatically. No more copy-pasting, no more long e-mails, no more calls (unless you want to talk to us of course – we'd be delighted to hear from you). The entire translation management process can be managed via your CMS. Make Diction part of your supply chain for fast, efficient and high-quality translation services.
TYPO3 plug-in
If your website is based on TYPO3 and you also use their free localisation manager l10n, we can process translations of your online texts directly in our translation tool. And we can also make things even easier for you. With the plug-in we developed for TYPO3, you can manage the entire process – placing orders, setting deadlines, checking statuses and much more – directly via the CMS.
Diction service: Placing orders, setting deadlines, checking statuses, making updates and much more – you can take care of all your project management processes without leaving your CMS. You don't need to copy anything, call us or use our (admittedly brilliant) client portal – everything can be taken care of from the "comfort" of your CMS. Once we have received the new text and all the relevant information via the plug-in, the resource management and translation processes start automatically in our system.
A direct connection for corporate reporting: ns.publish
In addition to our professional CMS plug-ins, we also offer our corporate reporting clients the option of working together using the publishing system ns.publish. Many of our clients use this tool – for annual reports, for example. ns.publish allows you to send us texts to translate or proofread with little more than a click of the mouse. All you need to do is click on "Start translation" in the program and we receive the files via an encrypted connection. Once our team of in-house experts have finished working on your texts, we send them back to you in ns.publish, and they are automatically imported.
Just ask us. We would be delighted to make a professional and efficient contribution to your corporate reports.


Impressive technology
Diction has some real machine translation experts on their team. They managed to do exactly what we wanted by creating a kind of hybrid system that combines the use of machine translation and translation memories. It's great how flexible they are. The user-friendly client portal is also great, and really makes our project management much easier. We are really happy with Diction!

Roger Rölli
Team Leader Marketing Services, AMAG Import Ltd


We recommend Diction
Diction has provided language services for us since 2016. They translated and took care of the final editing for our website in the Drupal CMS, helped us put together our corporate language book, and worked on our annual progress report. Diction has precisely the right expertise to excel where the worlds of science, public administration, the economy and politics meet. We can definitely recommend Diction without hesitation.

Raymond Cron
CEO, Switzerland Innovation
News
Our language partners are part of our family! That's why we couldn't miss the opportunity…